Greatest Showman
Published on February 23, 2018
I know I knoooooooow
It's been years (literally) since I posted something. A lot a lot a lot has been going on since my last post. I apparently also have a few posts that I started, but never got around to finishing them. Just random rants, thoughts, and musings. Let's see if I can get those out soon.
While I'm extremely proud of how this website has turned out, there a number of tweaks here and there I'd like to make. Minor ones. So while I'm not posting, I'm updating code here and there to get it to…work.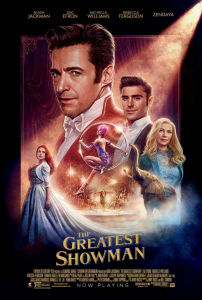 Anyway, onto my "The Greatest Showman" thoughts
I don't think I've obsessed over a movie since Moulin Rouge. With that being said, The Greatest Showman is taking over my life. Every movie I've seen after The Last Airbender, I have to watch with low expectations. It's a win-win. Almost all movies end up exceeding my expectations, and if by chance it ends up being a movie that absolutely dislike, then hey, expectations met!
That being said…The Greatest Showman isn't the BEST movie I've seen. However, I found it quite entertaining. After researching the life of P.T. Barnum after the first viewing, I found out that this guy actually a dick. Damn. "It was a different time back then," I keep hearing/thinking. Still dick moves this guy did. You are most likely reading this on the inter-webs, so you can research yourself.
BUT the lines that just made everything come together (and basically question everything I've ever known) were these:
James Gordon Bennett: Does it bother you that everything you are selling is fake?
P.T. Barnum: Do these smiles seem fake?
I thought of this interaction between these two. Like, a lot.
No where do they mention the terrible things that P.T. Barnum has done. I'm pretty sure everything sucked much worse than depicted. And NO WAY can love at first sight happen as perfectly as it did with Zac Efron and Zendaya.
Watching it the second time, knowing what I knew, I didn't care… My smiles were real. I was duped…but that didn't matter. I was entertained. I had fun in the theater. If I had the time, I would've seen the movie a third time. I loved this movie so much. I loved this "lie" so much.
THIS MOVIE IS META.
The music. Oh my goodness the music. I've been listening to the soundtrack on repeat every day for the past 2 months. 60 days. I love the music.
"This is Me" is my anthem. I don't think I can fully express how much I needed to hear this song.
I love this movie.
previous post: Overcoming Fears in 2015
Leave a Reply